Cycle Atlanta app lets cyclists shape future city bike projects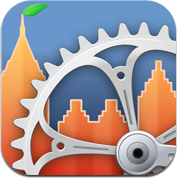 Atlanta might not be known yet as a bicycle-friendly city, but city planners, organizers and researchers are looking to change that with the help of a simple mobile app. This app, named Cycle Atlanta, will allow cyclists the opportunity to transfer information about their ride directly to the City of Atlanta through their phone's GPS capabilities.
Now available on iPhones and Androids, the free app will track a rider's route, speed, time, frequency and other statistical data in real-time that will be used to help improve Atlanta's environment for bicycle-riding, along with the rider's ability to offer feedback on bike-lane obstacles, potholes, or unsafe conditions. Not to mention, the Cycle Atlanta app can also be used to track a cyclist's ride for fun and be shared with friends.
Cycle Atlanta is a joint project between the City of Atlanta Department of Planning & Community Development, Georgia Institute of Technology, Atlanta Bicycle Coalitionand Atlanta Regional Commission (ARC).
It is funded through a contribution from the Atlanta Bicycle Coalition with support from local businesses, and the Atlanta Regional Commission's Livable Centers Initiative planning program. Additional support is provided by the GVU Center and the Institute for People and Technology at Georgia Tech. This project will also aid the ARC in implementing initiatives to meet the goals of PLAN 2040, a fifty-year plan aimed at improving metro Atlanta's growth as a sustainable city.
"By looking at cyclists' origins, destinations and route, City of Atlanta transportation planners will be able to see which roads are avoided and which are popular," said College of Engineering Assistant Professor Kari Watkins. "The city can use the information to make future decisions about where infrastructure is needed to create bike-friendly routes throughout Atlanta."
Watkins developed Cycle Atlanta with Christopher Le Dantec, an assistant professor in the Ivan Allen College of Liberal Arts. "One of the main reasons people don't frequently cycle is a lack of safe infrastructure – dedicated bicycle routes, roads with bicycle lanes and other designated bicycle facilities," said Le Dantec. "The city has a desire to put proper infrastructure in place but needs better information from citizens about where they currently ride and would like to cycle."
To use Cycle Atlanta, visit the Apple App Store or Android Market to download the app, or visit cycleatlanta.org.
At the beginning of your ride, tap "Start," then "Save" at the end, and add details like trip purpose and any comments. The data is confidentially be sent via GPS, with the option to opt-out of sending certain personal information. Cyclists are able to see a map of their ride, distance travelled and average speed.
This is the first iteration of the app, so if you have suggestions for future versions, please share them below!